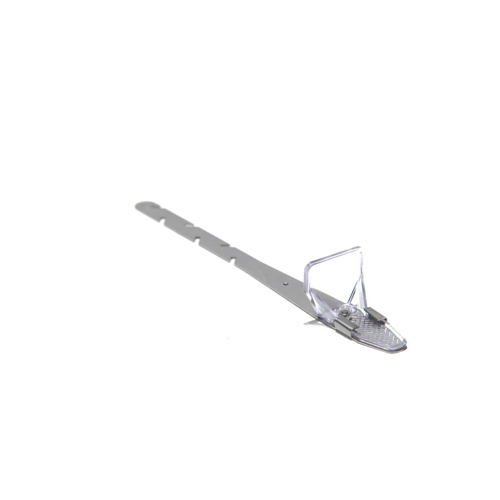 About the SlateGuard
The pre-assembled, sturdy 304 stainless steel SlateGuard is an ideal retrofit or new construction solution for slate, asphalt shingle and composite tile roofs. The slate roof snow guards slots easily engage roof nails. Unique rolled tabs insure the SnoBlox Deuce is held firmly on the strap and a stainless steel screw prevents lift out. Available with the choice of clear or 8 stock SnoBlox Deuce snow guards.
SnoBlox Deuce
The SnoBlox Deuce is our most popular snow guard because it is provides exceptional value and strength on a variety of roofing applications. It's popular face forward design and narrow foot made it ideal for use with the SlateGuard. The face of the SnoBlox Deuce is 3" wide and 2.5" tall to provide an optimal snow holding surface area. Available in a variety of stock colors: Clear, Brown, Red, Green, White, Light Gray, Dark Gray, Black and Blue. Professional ATI test results show the SnoBlox Deuce held up to 3456 pounds when screw mounted and 1379 pounds when adhesive mounted using the SB-190. All tests were performed simulating realistic snow loading conditions applied to face of the guard.
Buy Now
There is currently a 3-5 week lead time on this product. If you wish to place an order for slate roof snow guards, you will be redirected to SnoBlox-Snojax.com where you can check out securely.
Contact
Toll Free: 1 800 766 5291
Ph: 717 697 1900
Fax: 717 697 2452
Email: sales@snoblox.com